Kopper Kudaku (Koppa Kudaku (K(コッパ)クダク, Koppa Kudaku) is the crocodile-like Guardian Bakugan of Dai Daido in the fanfictional series Bakugan: Armor Battles.
Description
Edit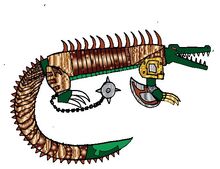 Kopper Kudaku is a large crocodile covered in what appears to be medieval European armor.
He wields a flail, which is attached near his right hind leg, his Skill Arm. In battle, Kudaku is able to kick it like a soccer ball, & then use his tail like a baseball bat to strike it at the opponent.  
Physical Game
Edit
Pentagon Parameter
Edit
| Attack | Defense | Occupy Force | Control | Stand | Total |
| --- | --- | --- | --- | --- | --- |
| 2/10 | 5/10 | 2/10 | 5/10 | 2/10 | 16/50 |
Gate Card(s)
Edit
Ability Card(s)
Edit
Fusion Ability Card(s)
Edit
Useable Skill
Edit
Kopper Kudaku's default Skill Arm comes with the Useable Skill called O-Raid (オレイドー, Oreidō) which allows you to freely move the Bakugan to any adjacent Gate Card surrounding the Gate Card on which Bakugan stood.
Kopper Kudaku is the only Armor Bakugan whose Skill Arm (despite its name) is located on his right leg rather than his arm.
See Also
Edit